Eddie Martinez's market takes off in Asia; Pierre Soulages lives in a relic of Modernism's future; Gauguin makes $10.5m at Artcurial; and the Rubells invest in real estate and art.
This commentary by Marion Maneker is available to AMMpro subscribers. (The first month of AMMpro is free and subscribers are welcome to sign up for the first month and cancel before they are billed.)
Eddie Martinez Caps Auction Run with $2m Sale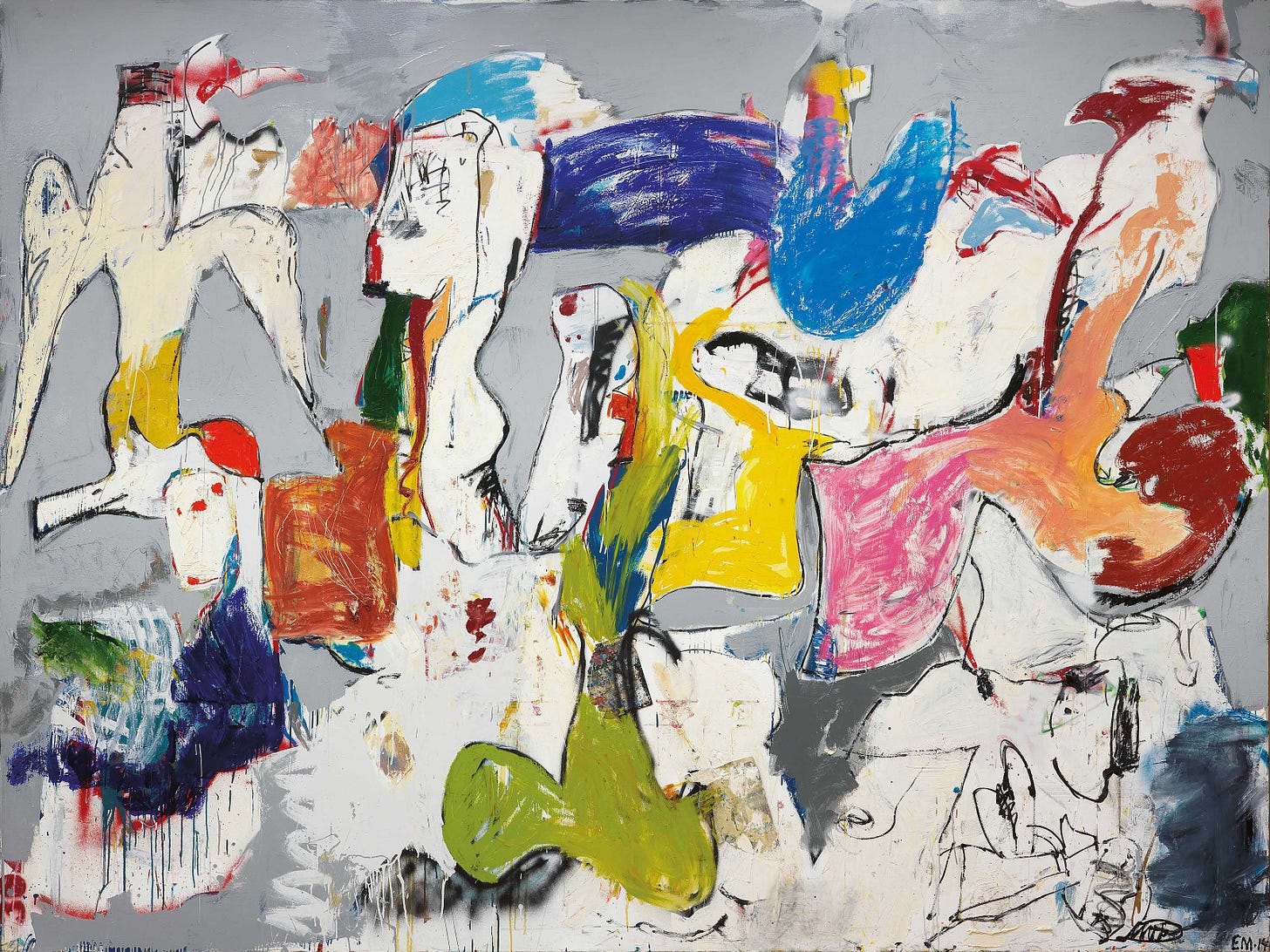 Eddie Martinez, High Flying Bird HKD 15,725,000
The Financial Times is taking notice of a few artists whose markets have been jumping lately. Nicolas Party has been hard to ignore for quite some time and Genieve Figgis has begun to join him in the early lot run-up to the Evening sales of Contemporary art.
This season, demand also grew for a new generation of western contemporary artists, including Genieve Figgis (b1972, Dublin) at Phillips, Eddie Martinez (b1977, Connecticut) at Christie's, and Nicolas Party (b1980, Lausanne) at Sotheby's.
But one of the artists mentioned here, Eddie Martinez, is getting bigger prices without much notice. The market run began this October when Sotheby's sold Your Past is My Future for £337,500 over a £120k high estimate in London. Christie's sold Tears of Rage the next day for £262k over a £100k high estimate.
That was nothing compared to what happened with Rumble in Hong Kong. It had a high estimate of HKD800k but made a huge HKD5.5m. A second painting in those sales, Beginner Mind 6, carried a high estimate of HKD350k but made nearly HKD1.2m.
Not to be confined to London or Hong Kong, the New York sales saw three works by Martinez go on the block. All three we sold for prices double to triple to quadruple the high estimate. Only one, Happy Painting, seemed to crack the important $500k barrier.
Whatever is driving the interest in Martinez, the buyers are global enough to seek out works in all three major sales centers but the strongest bidding action seems to take place in Hong Kong. That's where both Christie's and Phillips were able to score over the sales leading up to Thanksgiving weekend in the US.
Phillips had Almost Lost #4 with a strong high estimate of HKD1.5m or nearly $200k. That proved insufficient to the demand. The picture was sold for HKD5.5m.
That was nothing to compared to the action at Christie's. An untitled painting made HKD2.6m; Small Love Letter #1 made HKD3.125m; and the appropriately named High Flying Bird was sold for a whopping 13x the low estimate or HKD 15.725m. That works out to be slightly more than $2m.
That's quite a run for one Autumn auction season without breaking into the big show in New York. There's a lot more selling time between now and May's New York auctions. So we'll be watching the March sales in Hong Kong to see where this goes.
---
Pierre Soulages Lives in a Time Capsule
The New York Times has a feature on Pierre Soulages that seemed to get lost in the shuffle during Lévy Gorvy show of his work at their gallery early this Fall. In passing, the newspaper notes something interesting about the artist. In the 1960s, he and his wife bought property near the town she was born in. Their country home became a project steeped in the times but eventually preserved in amber as the two aged.
Soulages is now 98 and his modernist home on the Mediterranean coast near Montepelier is now something of a time capsule:
Colette was born in Sète. Sixty years ago, Mr. Soulages said, the couple was hesitant to buy property here: "She was nervous that her friends would bother me," he said. But they were shown a dilapidated cottage on a high bluff, which they tore down and together designed a modernist retreat, now a time capsule of 1960s design. "Everything you see, except for the chairs, has been here for 60 years," Mr. Soulages said.
---
Artcurial Sells Gaguin for €9.5m
Artcurial sold its Gauguin above the high estimate of €7m.