Saffronart sells $7m in art; Gagosian goes back to the viewing room; Art is a tell for Trump voters; Banksy's most famous image available online at Christie's; About the Vogels.
This commentary by Marion Maneker is available to AMMpro subscribers. (The first month of AMMpro is free and subscribers are welcome to sign up for the first month and cancel before they are billed.)
Saffronart September Sale = $7.63m
This V.S. Gaitonde painting was the top lot at Saffronart's sale in New Delhi last week. The $3.78m painting was by far the most expensive lot sold even though it achieved a price toward the low end of the estimate range. Works by Ram Kumar, S H Raza, K H Ara and M F Husain all sold for prices above the estimate range.
Gagosian Has Frieze Sterling Ruby Viewing Room
After their success with Albert Oehlen during Art Basel Hong Kong, Gagosian has brought back their online viewing room with works by Sterling Ruby.
Trump Voters Don't Recognize Art When Shown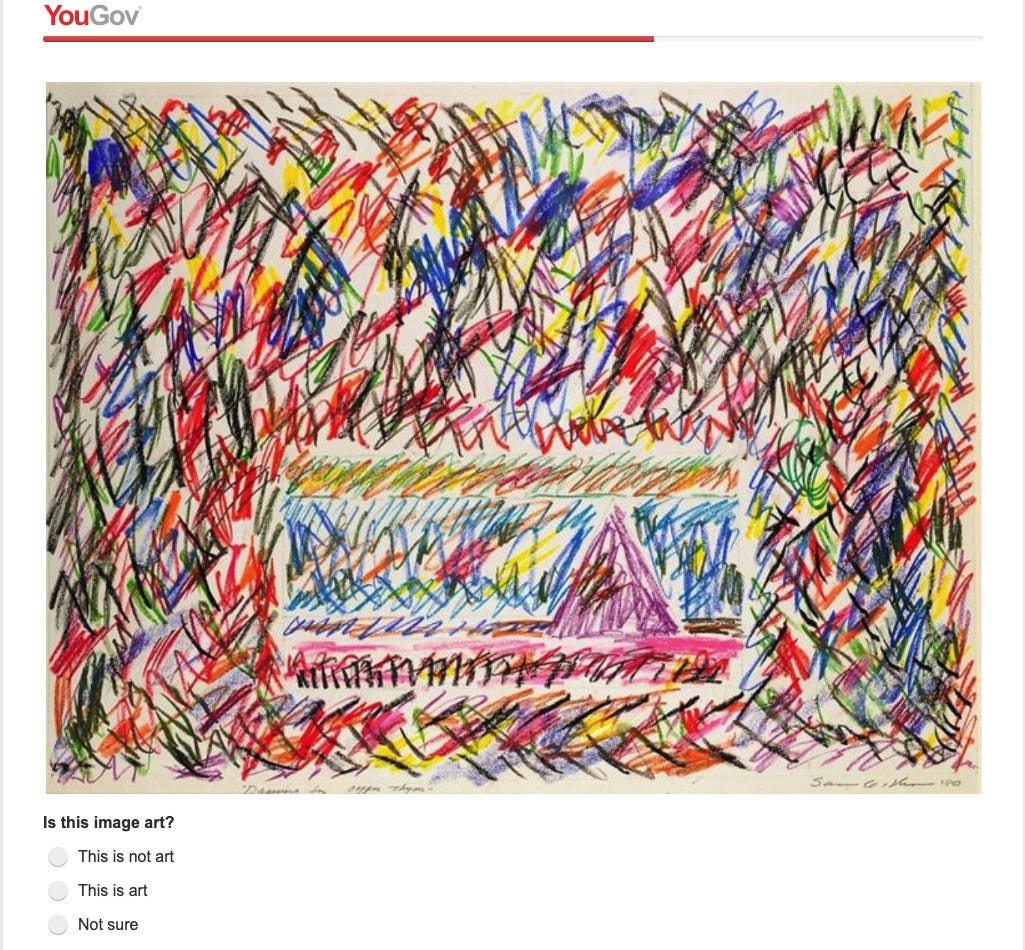 The folks at Vox picked up on this clever test of political affiliation:
Data for Progress, a progressive think tank, partnered with YouGov Blue in a recent poll that showed this image [of Sam Gilliam's 1980 drawing Coffee Thyme] (without any further identifying information) to respondents and asked them whether or not they consider it art.
Guess what? The poll was a better predictor of support for Trump than whether the respondent had a college degree. The likely explanation is that the results are:
in line with a well-known finding in political psychology that people who score high in a personality attribute known as "openness to experience" tend to have more left-wing political opinions (see Will Wilkinson's overview for the Economist or Chris Mooney's for the Washington Post). And while of course partisan politics differs from country to country, the link between openness and left-wing views pops up in studies of lots of places including Poland and Belgium as well as the UK along with the United States.
Christie's Has a Banksy Too. It's Selling Online.
Sotheby's is gunning for the Banksy record in London in a couple of weeks. That doesn't mean Christie's has left the field. Right now, this artist's proof of Banksy's most famous image Girl with a Balloon (Gold) is selling online and has reached its £150k low estimate. The auction ends in a week—before the main event in London.
The Vogels Were Never Like Other Collectors
Scott Reyburn is now writing for The Art Newspaper but he's still peddling the same tendentious line: the art world has been so thoroughly financialized, only speculators buy art. Meanwhile, the antiques trade has fallen victim to the pressures of housing and education on middle-class buyers.
The are well-worn fixations for Reyburn. His argument rests more on highly selective quotes and logical inconsistencies. Instead of blaming the decline of the antiques trade on changing tastes, the problem is that buyers no longer have disposable incomes. Contemporary art, meanwhile, has crowded out doctors and dentists with all the hedge fund money up and down the price spectrum. Prints are the only affordable art but they'll never rise in value so no one will buy them. (Tell that to the print dealers making sales hand over fist.)
The most disingenuous part of Reyburn's polemic is his use of Herb and Dorothy Vogel, the librarian and postal worker who famously collected thousands of works while living on only one of their salaries so they could buy art with the other. Reyburn posits that no one could possibly collect the way they did:
But in an era of growing income inequality, in which the wealthy have embraced art—particularly contemporary art—as an alternative asset class, pushing gallery and auction prices ever-higher and hollowing out the middle market, is it still possible for professionals of relatively modest means to become serious collectors?
Set aside that a librarian and postal worker are hardly classed as "professionals" in any socio-economic taxonomy. (That's not a put-down of librarians or postal workers.) The Vogels did acquire an extraordinary number of works by "Carl Andre, Donald Judd and Sol LeWitt" but they did a lot of that by investing time in getting close to artists. They were scensters in a way that it would be difficult to pursue now. Is that because of money? Maybe. But the Vogels were known to use their acquaintanceships with artists to button-hole them and importune them for works.
No one collects like that. The Vogels were collecting names as much as they were collecting works. They made an entire life out of their collecting. Other richer collectors have done that too. In the art market, money is often not the determining factor in gaining access to artists' work.
Reyburn is right. The magnification of inequality has made it increasingly unlikely that working class people like the Vogels would be able to gain access to cheap works on paper by dint of their passion, commitment and dogged willingness to pursue their goals. That doesn't really tell us much about why fewer doctors and dentists are buying art.