The Success of KAWS in Hong Kong has a few people unhappy; Sotheby's African Art = £2.3m; Sotheby's Fine Chinese Painting = HKD 488m; Gagosian Expands in LA
This commentary by Marion Maneker is available to AMMpro subscribers. (The first month of AMMpro is free and subscribers are welcome to sign up for the first month and cancel before they are billed.)
My congratulations to the thoughtful, measured bidders who have secured KAWS an auction record higher than every single woman artist alive today. https://t.co/q1lpnBcljS

— Andrew Russeth (@AndrewRusseth) April 1, 2019
Nothing, and I mean nothing, summarizes the current state and future trajectory of the art market better than a Kaws painting selling for nearly 15 million dollars LOL

— phillip jeffries (@baysidekniight) April 2, 2019
The sale of KAWS's painting based upon a Simpsons parody of the Beatles for $14.7m on Monday struck an uncomfortable nerve among too many observers. The auction result was not unlike the moment in 2007 when a Peter Doig painting, White Canoe, suddenly and unexpectedly was the subject of a bidding war that ended at $11.3m.
At the time, the sale seemed unnerving. Many in the market were not sure which explanation caused them greater unease about the future of the market, that the Doig's price was a fluke or that it might be a harbinger.
In the end, Doig's market eventually grew into the price and surpassed it. What happens next with KAWS is anybody's guess. But there's a consistent need to explain the demand for his work away.
Bloomberg immediately went to the crazy kids explanation:
"The auction room suddenly got a lot hipper, with all these cool millennial buyers in hoodies," said Edie Hu, art advisory specialist at Citi Private Bank in Hong Kong. "Their tastes are very different from their parents, and Sotheby's is tapping into that."
Nevermind that the 48-year-old seller of the work, the streetwear entrepreneur behind the Bathing Ape brand, was the seller and many of the current holders of KAWS's works are in their 50s and 60s.
One doesn't have to be a fan of KAWS's work to recognize that his work uses a recurring vocabulary of images and variations on those images in ways that should be familiar from the work of Takashi Murakami, Yoshitomo Nara and even Yayoi Kusama.
So instead of seeing KAWS as a generational shift in taste because of his interest in cartoons—remember that the Simpsons characters are 30 years old and the first cartoon character was created about 105 years old—or the childishness of his imagery, the market might ask how much KAWS can generate this year if he's already chalked up more than $30m in sales in 2019. That's nearly same figure his work generated in all of 2018.
---
Sotheby's Modern and Contemporary African Art = £2.3m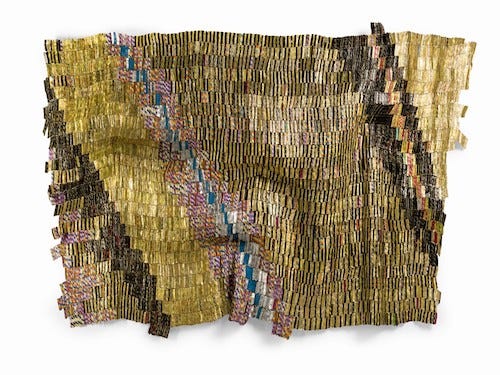 There was strong bidding on Sotheby's El Antasui work leading the Modern and Contemporary African art sale this week. Zebra Crossing 2 eventually sold for slightly more than £1m. Hassan El Glaoui's Moroccan La Sortie du Roi was the next most valuable lot in the sale with a selling price of £137,500. Chéri Samba had six of eight works offered in the sale make a total of £238,750.
---
Fine Chinese Paintings = $62m
The KAWS sale has provoked most of the reaction but Sotheby's Fine Chinese Painting sale in Hong Kong was filled with strong showings like the top lot by Zhang Daqian, Manchurian Mountains that had a HKD 70m high estimate but still cleared HKD 162m as a premium price.
Huang Binhong's Landscape After Song Artists performed even better against the estimates. That painting carried a HKD 3-5m estimate and sold for HKD 20m.
Wu Guanzhong' White Birch Forest in Xinjiang, estimated at HKD 6-8m also sold for HKD 19.8m. There were several more works by Zhang, Wu and Huang that did very well in the sale. There were also strong sales for Xu Beihong, Lin Fengmian and Fu Baoshi.
---
Gagosian's New Restaurant Scheme in Beverly Hills
It's not clear from this Eater item whether Gagosian's LA gallery is expanding while splitting the space with a new restaurant or incorporating a new restaurant into its expanded gallery:
"[Evan] Funke and his big, busy Felix Trattoria partners — Janet Zuccarini's Gusto 54 Restaurant Group out of Canada — are taking over a large space on Camden Drive, just a block up from the buzzy Madeo and stalwart Mr. Chow. More importantly, the address puts them right next door to upscale art gallery Gagosian, which is also partnering in on the project.The plan is for art dealer Larry Gagosian to divide the 9,500 square foot space with the restaurant team, meaning he'll be using some of the square footage for a premium and private gallery, and Funke and co. will be taking the rest for his restaurant."