Acquavella wants a Geldzahler premium for its Hockney at ABHK; Saffronart gets $3.7m for Gaitonde; Sotheby's $45.7m Asia Week haul; Skinner sells $1000 cloisonne plate for $315k.
This commentary by Marion Maneker is available to AMMpro subscribers. (The first month of AMMpro is free and subscribers are welcome to sign up for the first month and cancel before they are billed.)
Acquavella's $15m Hockney at Art Basel Hong Kong
Artnews announced that Acquavella galleries is bringing a 1985 portrait of Henry Geldzahler to Art Basel Hong Kong with a $15m price tag. Even assuming the painting would be sold for a 20-30% discount, the price would dwarf anything paid for a work in this style and from the mid-80s. In 2014, a 7-ft long 1988 painting Table with Conversation made $2.8m in a London auction. Though a much smaller work from 1989 sold in November of 2017 for $4.8m after it was included in the Tate retrospective. That work was also a landscape and had been in Robert Rowan's collection at one time. Just this past November, a diptych on paper, A Visit with Mo and Lisa, Echo Park from 1984 was sold for $2.6m.
---
Judge Dismisses Aboutaam Claims Against Wall Street Journal
NY State Supreme Court Justice Robert Kalish ruled today in favor of the Wall Street Journal dismissing libel claims by Hicham Aboutaam and Ali Aboutaam that the Journal's reporting on their family and business in an article on May 31, 2017 entitled Prominent Art Family Entangled in Investigations of Looted Antiquities.
---
Saffronart Sells Najiv Modi's Gaitonde for $3.71m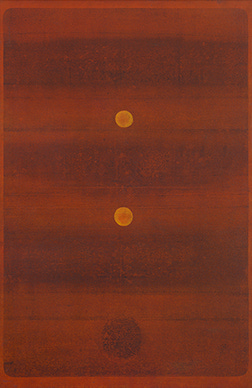 All eyes were on Saffronart today as the Mumbai auction house sold the seized art collection of fugitive jeweler, Nirav Modi. We don't have a total for the sale yet but the most watched works were this VS Gaitonde (above) that made just the around the low estimate to sell for $3.7m with fees and this Rajiv Ravi Varma history painting that sold safely within estimates for $2.36m.
The works in the sale that out-performed estimates were by FN Souza, like his Cityscape which was bid to $262k, his self portrait bid to $152k, and Golly-wog which was bid to $202k.
---
Sotheby's Asia Week = $45.7m
Sotheby's Asia Week sold $45.7m across eight sales. Below are the totals for each sale separately and some of the significant lots in those sales:
Fine Classical Chinese Paintings & Calligraphy = $7.3m
Shen Zou, Poems on Falling Flowers in Running Script makes $3m
Indian, Himalayan & Southeast Asian Works of Art = $5.2m
A Thangka depicting a Hevajra Mandala makes for $2.4m
Modern & Contemporary South Asian Art = $3m
F.N. Souza's Golgotha in Goa achieved $437,500 (estimate $250/350,000)
Huma Bhabha's Untitled from 2011 set a new world auction record for the artist at $200,000
Important Chinese Art = $19.8m
A gilt-bronze figure of Chinese Buddhist deity Cintamanicakra Avalokiteshvara an Antiques Roadshow discovery makes to $2.1 Million
Inscribed by the Qianlong Emperor, a complete set of The Sutra of Perfect Enlightenment brings $2.7m
A rare white jade 'Imperial Procession' Qing Dynasty brushpot sold by the Art Institute of Chicago makes $2.1m
Junkunc: Arts of Ancient China = $4.1m
A rare Beige Jade Carving of a Mythical Beast Han Dynasty – Six Dynasties achieved $740,000
A Tang Dynasty Large and Rare White Marble Carving of a Bodhisattva, previously held in the Cleveland Museum of Art, also reached $740,000
Kangxi: The Jie Rui Tang Collection, Part II = $2.2m
an Extraordinary, Fine and Large Inscribed Famille-Verte Brushpot that soared to $572,000
The Robert Youngman Collection of Jade = $1m
a Ming Dynasty Yellow and Russet Jade Figure of Zhou Yanzi, which achieved $150,000
a Qing Dynasty Archaistic Pale Celadon Jade Baluster Vase and Cover achieved $150,000
Saturday at Sotheby's: Asian Art = $3m
various calligraphy attributed to Wu Kuan, Chen  Liu, Chen Jiru, Qian Qianyi, Mao Xiang, and Liu Yong together brought $122,500
Flowers, Bamboo and Landscape attributed to Yun Shouping, Zheng Banqiao, Li Shan and Mingjian achieved $105,000
a 20th Century Large Archaistic Jadeite Hu-Form Vase and Cover which achieved $112,500 – over seven times its $15,000 high estimate
---
Skinner Sells Tibetan Cloisonne Dish for 315x Estimate
Late last week, Boston's Skinner sold a Large Cloisonne charger with Dragons that was estimated at $1000-1500 but sold for $315k. The Ming era work is the latest in a number of works that telephone buyers acquired in Asia Week.