Christie's posts a big London Imp-Mod Evening despite top lot stumble; Poons breaks market cocoon; Phillips New Now = $5.2m; 60% of sold lots go above estimates in Sotheby's £21m Imp-Mod Day sale
This commentary by Marion Maneker is available to AMMpro subscribers. (The first month of AMMpro is free and subscribers are welcome to sign up for the first month and cancel before they are billed.)
Christie's London Imp-Mod Evening Sales = £165.6m
The Evening sales at Christie's were a mixed bag. The single-owner sale of the Wallace brothers collection performed poorly against overly ambitious estimates. Only three of those lots made the top ten for the evening; and only Renoir's Sentier dans le bois outperforming estimates. Record prices for Caillebotte and Signac were the star performers from the various owner sale that performed far better. In the Surrealism sale, Magritte was the new Andy Warhol, in the words of one collector watching on an iPad in an airport terminal.
---
'Hidden Treasures' Charms Remain Elusive
The £50m Hidden Treasures sale at Christie's didn't go quite as planned. With two high-profile works—one by Monet and another by van Gogh—with a combined low estimate of £48m which was nearly equal to the sale total, the consignors surely can't be pleased that Bloomberg decided to run their exposé of the collectors even after the sale failed to provide impact.
"More than 20 works were being offered at Christie's by brothers Monte and Neil Wallace, both in their 80s, said the people, who asked not to identified discussing confidential information. Some of the prized canvasses at the sale — called "Hidden Treasures: Impressionist & Modern Masterpieces from an Important Private Collection" — haven't been seen by the public for three decades, save for rare museum appearances."
For Christie's, the collectors decision to eschew a guarantee means the impact of the failed lots will not have a material impact on the firm's balance sheet.
---
The Price of Poons
LARRY POONS, Handmaiden 63 x 68 1/2 in (2007) Est: $25,000 – 35,000 Sold for $137,500
The HBO documentary The Price of Everything contrasting the inner workings of the art market with the oustsider status of once-famous painter Larry Poons seems to have had some effect on Poons's market. At Phillips New Now sale today, this work 2007 Handmaiden was offered with a $25k low estimate. It sold after spirited bidding for $137,500 all in.
---
Phillips New Now = $5.2m
Phillips had a strong 85% sell-through rate on its 168-lot New Now sale:
Sam Mansour, Phillips' Head of New Now, New York, said, "Strong prices were achieved for established artists like Frank Stella, Larry Poons, and Andy Warhol, as well as for mid-career artists, such as Mary Weatherford, whose Truxton led the auction after being sold to an online bidder; Jenny Holzer, whose Truisms: All things are delicately interconnected… realized $312,500; and Kehinde Wiley, whose Portrait of Garrett Gray  soared to $243,000 against a low estimate of $40,000. Emerging artists also received an enthusiastic response, with Nicolas Party's Blakam's stone (watermelon) realizing $30,000 and with 8:30pm by Louisa Gagliardi, a newcomer to the secondary market, more-than-doubling its low estimate. We were pleased to see continued strength for digital art, as paintings by Petra Cortright and Cory Arcangel performed quite well.  With the season now underway, we look forward to our upcoming auctions of 20th Century & Contemporary Art in London next week."
---
Sotheby's Imp-Mod Day Sale = £21.4m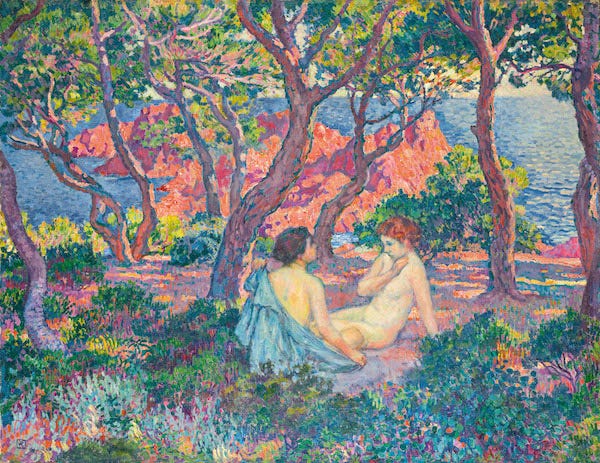 Théo van Rysselberghe, À l'ombre des pins (1905) Sold for £1 million
Sotheby's gathered some of the highlights from their Impressionist and Modern day sale in London about which co-heads Siân Folley and Olimpia Isidori said: "Just under 60% of the lots that sold exceeded their high-estimates, demonstrating the depth of bidding across the board."
Théo van Rysselberghe, À l'ombre des pins (1905) Sold for £1 million / $1.3 million
The sale offered a further three lots by the artist, the atmospheric seascape Pluie fine at £591,000, alongside two portraits, Miss Gertrudeand Maria van Rysselberghe, which sold for £81,250 and £7,250 respectively.
Gustav Klimt , Damenbrustbild von Vorne (circa 1917-18) Sold for £495,000 / $623,651
From the same collection, Schiele's Kniende Frau from 1912, a demonstration of the artist's remarkable technical skill at the age of just twenty-two, also surpassed its pre-sale estimate to sell for £250,000.
Marc Chagall, Daphnis et Chloé  Sold for £735,000
Appearing at auction for the first time directly from the family of the famed publisher Tériade, a pristine portfolio of 42 kaleidoscopic lithographs, soared to £735,000, against a pre-sale estimate of £400,000-600,000.
Salvador Dalí, Rêve de Vénus (1939) Sold for £435,000 / $548,057
Rich in symbolism, Rêve de Vénus is one of a pair of full-worked studies for Dalí's ambitious and elaborate pavilion – a three-dimensional manifestation of the subconscious envisioned by the artist for the New York World's Fair in 1939 and funded by collector and poet Edward James. The work was met with significant demand, selling for a triple-estimate £435,000.