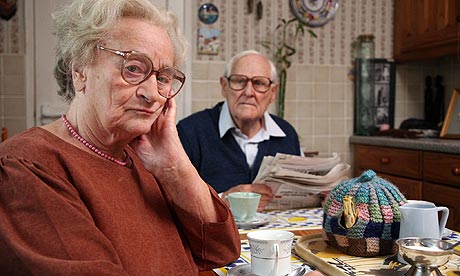 The Greenhalghs have become art world legend and now the BBC has run a dramatization of their story called Antiques Rogue Show. Earlier in the week, The Guardian did a follow up:
The Greenhalghs's own provenance – or at least what little of their small, strange history we are aware of – began in the late 1980s when, during an episode of The Antiques Roadshow, inspiration struck like a knee to the solar plexus. When the unveiling of a lost watercolour made an expert's bow tie spin, a light bulb appeared above Olive (Liz Smith)'s garibaldis.

"It's not about art. It's about money," she said beneath her perm.

"It gets you thinking, doesn't it?" agreed George, over his glasses. In the corner, silent Aunt Jessie's knitting needles registered their interest. One suspected that the shapeless woollen bundle in her lap would have made the perfect noose.

For now, however, there was work to be done and, indeed, boggling artistic genius to be deployed. Not that it was ever acknowledged as such. According to Hull's film, Shaun's immense talents were merely a means to an end: the vehicle necessary to speed the Greenhalghs to the pot of cash at the end of the art-world rainbow.

"Let's get all we can, while we can," said George, eyes gleaming with octogenarian mischief, as Shaun – a picture of glassy, uncomplaining misery – chipped compliantly at another block of calcite. Whether it was modesty, embarrassment or envy that prevented the Greenhalghs from acknowledging Shaun's gift, we will probably never know. It's safe to assume, however, that the family's garden shed contained as much in the way of guilt and self-denial as it did power tools and turpentine.